Nearly a month on from Star Wars Celebration Europe, you'll be forgiven if you thought nothing worthy had come from the largest event in the SW calendar. Online grumbles from many journalistic personalities portrayed this as a "nothing convention". As a compromise, the lack of footage was disappointing, but as someone who was present during the Future Filmmakers Panel, you know, the big one, it's clear there's eight big reasons why you should be more pumped for Episode VIII.
1. It's A Wrap! 
Learning that Episode VIII has completed principal photography is enough to hype even the most disgruntled fan.
Knowing the shoot came in on schedule and has a year and half to focus on all those juicy effects in post production is nothing short of tedious, but surely that only increases the chance of a trailer being attached to rogue one!
2. Behind The Scenes Pics!
Rian Johnson teased us with some beautiful behind the scenes photos. The presence of Dave Filoni suggests that Johnson is not only dedicated to making a great movie, but passionate to making this a Star Wars movie proud among it's predecessors.
#StarWarsRebels' @Dave_Filoni visits the #EpisodeVIII set. -Future Filmmaker Panel #SWCE https://t.co/d9pDXJZ3Ey pic.twitter.com/3rxV1xfnCp

— Star Wars (@starwars) July 17, 2016
3. It's A Rian Johnson Film
… and don't just take my word for it, this explanation came from Katharine Kennedy herself. She revealed having Johnson's incredible film knowledge (which was evident when he revealed the list of films that inspired the film, all of which were artistic and a rare finds) made him a no brainier, and even went as far as to say he moves the camera as well as Steven Spielberg. Talk about a compliment.
4. The trio of directors; JJ Abrams, Rian Johnson and Colin Trevorrow, have worked closely with each other.
While on the topic of directors, Johnson explained how all three episodes in the new trilogy, and in-particular the directors, have been in constant communication with one another throughout production. With each episode overlapping each other with their schedules, making this a vital point.
5. John Boyega.
A new direction. Perhaps this is to be expected, especially as the talented involved are limited in what they can say at this point, but John Boyega was very expressive when claiming the film heads in a new direction.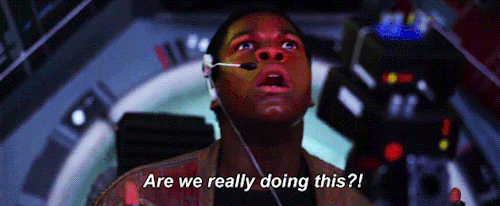 This is especially true with his character, Finn. It will be interesting to see where his character is at after the events of Force Awakens.
6. Where we left off.
This particular news story, the fact the film is picking up where we left off, seemed to be the one on every homepage during Celebration, and I can see why. For the first time in Star Wars history, a sequel will pick up exactly where the last one left us.

I cannot express how happy I am with this. They simply couldn't breeze that last moment between Rey and Luke, and as appears the case with Lucasfilm under Kennedy's guidance, they don't want to disappoint their loyal fanbase.
7. They didn't show us anything…
I may be alone here, but bare with me. I'm actually rather happy they didn't show us any material. How many of you felt the marketing for Ep VII was a tad overwhelming? I'm hoping they are keeping things held back after listening to fan feedback. The trailer is going to explode whenever it hits, so why start a marketing campaign 17 months prior to the films release?
8. Spoiler! Spoiler!
Ok, I had to save this for last just so don't accidental breeze through a spoiler. As always, Carrie Fisher was… herself. Warwick Davis had done well to skip past what she dropped, but it was certainly something that wasn't meant to be said.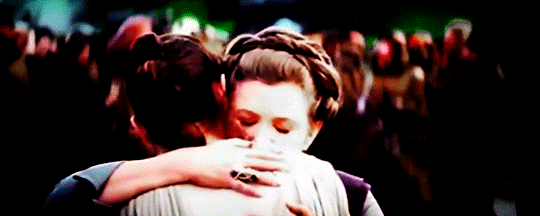 It looks like, after all the wild speculation, Han Solo is officially dead, and we will be getting a funeral at some point during Episode VIII.
Star Wars Episode VIII is released on Friday 15th December 2017. Tickets for Star Wars Celebration Orlando are on sale now.